40th Annual
Vikingland
Band Festival
Parade Marching Championship

Sunday, June 30, 2024
1:30 PM

Alexandria, Minnesota

The Midwest's finest high school marching bands gather in Alexandria for the Vikingland Band Festival parade marching championship. Summer parade bands are at their peak in late June and they pull out all the stops as they perform on the city's extra-wide main street.

Eight different bands have claimed the Grand Champion title in the Festival's 38-year history. Join us to see who rises to the top in 2024!

Future Dates:

June 30, 2024
40th Annual

June 29, 2025

June 28, 2026

Always the last Sunday
in June

Share this page:



2024 PLANNING UNDERWAY
Join us June 30 for the 40th annual festival! Are you looking to get involved, sponsor the festival, or enter your band in the parade? Feel free to contact us.
2023 PARADE RESULTS
Thousands of spectators enjoyed a stellar lineup of performances at the 39th Annual Vikingland Band Festival, as the parade escaped the cloudy skies with little more than a few passing raindrops. The Alexandria Marching Band served as host to more than 1,000 students from across Minnesota. 728 Cadets scored 88.8 to claim its fifth Grand Champion title, followed closely by perennial contender Waconia with 87.8. Milaca scored 85.4, Dassel-Cokato scored 84.1, and Champlin Park scored 81.5 to round out the overall top five. Winona Cotter was sixth overall, claiming first place in Class A and also earning its first People's Choice Award. View complete 2023 results »
FESTIVAL PROGRAMS

Pick up your free copy of the parade program from bins on corners of key intersections along the parade route. As we continue to streamline the program and be environmentally friendly, you can also view a digital version of the program.
2022 PHOTO GALLERY

Relive the excitement of the 2022 Vikingland Band Festival with a gallery of more than 100 photos! View the 2022 photo gallery featuring images of every band.
PAST RESULTS
Did you know that 95 different bands have appeared in the Vikingland Band Festival since its inception in 1985? Browse the Festival archives to access scores and participants from previous Festivals.
DID YOU KNOW...?
Alexandria is the only band to appear in every Vikingland Band Festival, but many bands have a long history performing in the festival. Including 2023 appearances, these bands have appeared at least 15 times: Alexandria (39), Fergus Falls (36), Waconia (35), Winona Cotter (34), Henry Sibley/Two Rivers (33), Mankato Lancers (32), Bertha-Hewitt (31), Long Prairie (27), Park Center (27), Sauk Rapids (25), St. Cloud All-City (24), Litchfield (22), Albany (20), Kerkhoven-Murdock-Sunburg (20), Champlin Park (19), Osseo (18), Sartell (18), New York Mills (17), Albert Lea (16).

Sixteen different bands have been named People's Choice since we launched the award in 1989, and the Mankato Lancers and Waconia have each won it a record seven times! Previous People's Choice award winners:
• 2023 Winona Cotter
• 2022 Kerkhoven-Murdock-Sunburg
• 2021 No awards - festival style ratings
• 2020 No awards - virtual event
• 2019 Dassel-Cokato
• 2018 Waconia
• 2017 728 Cadets
• 2016 Kerkhoven-Murdock-Sunburg
• 2015 728 Cadets
• 2014 Waconia
• 2013 Mankato Lancers
• 2012 728 Cadets
• 2011 Bemidji
• 2010 Mankato Lancers
• 2007-08-09 Waconia
• 2006 The Patriots
• 2004-05 Waconia
• 2000-01-02-03 Mankato Lancers
• 1999 Albert Lea
• 1998 Champlin Park
• 1997 Fergus Falls
• 1996 Long Prairie
• 1994-95 Irondale
• 1993 Mankato Lancers
• 1991-92 New Richmond, WI
• 1990 Henry Sibley
• 1989 Hibbing
Festival Scenes: View photo galleries »

FOLLOW US ON FACEBOOK

Stay informed of last-minute updates, news and Festival history. "Like" the Vikingland Band Festival on Facebook.

EXPERIENCE THE FESTIVAL IN PERSON
Join the thousands of spectators and performers for this spectacular event. Look here for the parade route and maps of Alexandria. More »


2023 PLATINUM SPONSORS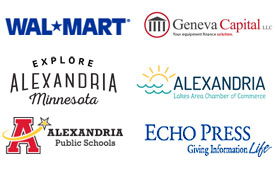 GOLD SPONSORS
Aagard
Alomere Health
Carlson Music Center
Coldwell Banker Crown Realtors
McDonald's
Schmitt Music
Steinbring Motorcoach, Inc.

SILVER SPONSORS

Alexandria Technical & Community College
Alexandria Elks Lodge #1685
American Solutions for Business
Central Lakes Orthodontics
Eckroth Music
Elden's Fresh Foods
Glenwood State Bank
ITW Heartland
Juettner Motors
Martinson Insurance Agency
Viking Bank
Viking Garage Door Co.
Widseth
Winning Edge Graphics

FRIENDS OF THE FESTIVAL
Alexandria Downtown Merchants Association
Alexandria Area Bowling Association
Alexandria Elks Lodge #1685
Bell Bank
Gardonville Cooperative Telephone Association

IN-KIND SPONSORS
Alexandria Area Robotics
Alexandria Golf Cars
Alexandria Park Department
Alexandria Police Department
Alexandria Street Department
Banners.com
Bell Bank
City of Alexandria
Community Vacuum & Sewing Center LLC
Databae Systems
Douglas Country Sheriff's Posse
Hilltop Lumber
HPS Rental
KXRA Radio
Livewire Entertainment Media Services, LLC
Marching.com
Marine Corps League Runestone Detachment #1409
North Ambulance
North Star Academy
RG Realty
US Bank
West Central Sanitation
Winning Edge Graphics