View the Macy's Parade route map and list of entries below
NEW YORK, November 12, 2012 — More than 8,000 participants will usher in the holiday season as the 86th Annual
Macy's Thanksgiving Day Parade
takes to the streets of New York City. The 2012 parade steps off at 9:00 AM on Thursday, November 22, bringing with it the nation's best marching bands, performance groups, cheerleaders, clowns, giant balloons, floats and the biggest star of them all, Santa Claus.
From the trumpeting of the time-honored phrase "Let's Have a Parade" to the first glimpse of one of Macy's signature giant helium balloons, the march will delight more than 3.5 million spectators lining the streets of Manhattan and more than 50 million viewers nationwide.
"The 86th Annual Macy's Thanksgiving Day Parade will again make history as it debuts three impressive giant balloons, six over-the-top floats, an amazing array of talent and the most remarkable high school and college marching bands in the nation," said Amy Kule, executive producer of Macy's Thanksgiving Day Parade. "This incredible cavalcade will make its way down 6th Avenue, a path that marks only the seventh time the Parade has changed its route. And, as it has during turbulent times in our history, we hope the Macy's Parade serves as a beacon of hope for all who tune in and gather with friends and family to give thanks this season, as they continue to heal from the devastating aftermath of super storm Sandy."
Macy's Parade Route Map
The 86th Annual Macy's Thanksgiving Day Parade will step off at 77th Street and Central Park West. The procession will travel down to Columbus Circle, turn onto Central Park South and march down a new path via 6th Avenue/Avenue of the Americas to 34th Street. At 34th Street, the Parade will make its final turn west and end at 7th Avenue in front of Macy's Herald Square.
NBC Telecast Begins at 9 AM in All Time Zones
Americans coast to coast can share in the magic of the parade through NBC-TV's national telecast hosted by the TODAY Show's Matt Lauer, Al Roker and Savannah Guthrie. Enhancing the Parade's signature entertainment will be performances from Broadway's best musicals including
Annie
,
Bring It On
,
Rodgers + Hammerstein's Cinderella
,
Elf
, and
Nice Work If You Can Get It
. In addition, the world-famous Radio City Rockettes will join the presentation to help kick off the holidays. The telecast will air from 9:00 AM to 12 Noon in each of the four time zones in the continental United States.
2012 Macy's Thanksgiving Day Parade Lineup
The 86th Annual Macy's Parade will be a crowd-pleasing spectacle that features 1,600 cheerleaders and dancers; 900 clowns; 16 giant character helium balloons; 40 novelty/ornament balloons, balloonheads and balloonicles; 12 marching bands; 28 floats; and a host of celebrity performers.
New arrivals to the giant balloon lineup include Santa's favorite scout elf from the new beloved children's Christmas tradition The Elf on the Shelf; the smurferrific Papa Smurf; and the loveable Hello Kitty who returns in a brand new design aboard her fabulous airplane.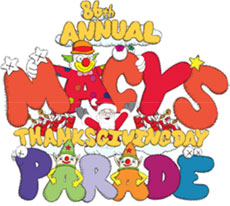 The float lineup brings six new additions including the imaginative Daytime, Play Time, Night Time Too...; the wonderland of Goldfish on Parade; the beats lifestyle magic of Music is Our Life; the hoops appreciation on board the 75 Years of March Madness; the home based goodies of Stirrin' Up Sweet Sensations; and the ninja precision of the Teenage Mutant Ninja Turtles.
Following is the list of 2012 Macy's Thanksgiving Day Parade entries (all talent, performances, line-up and information is subject to change).
16 GIANT BALLOONS
• Buzz Lightyear
• Charlie Brown
• Diary of a Wimpy Kid
• The Elf on the Shelf
• Hello Kitty
• Julius
• Kermit the Frog
• Kung Fu Panda
• Papa Smurf
• Pikachu
• Pillsbury Doughboy
• Ronald McDonald
• Sailor Mickey
• Sonic the Hedgehog
• Spider-Man
• SpongeBob SquarePants
• The parade also boasts 40 novelty/ornament balloons and balloonicles, ranging in size from 12 to 25 feet tall.
12 MARCHING BANDS
• Banda Musical Delfines, Veracruz, Mexico
• Father Ryan High School, Nashville, TN
• Kenton Ridge High School, Springfield, OH
• Macy's Great American Marching Band, United States
• Niceville High School, Niceville, FL
• North Carolina A&T State University, Greensboro, NC
• NYPD Marching Band, New York, NY
• Oak Ridge High School, Conroe, TX
• Saratoga High School, Saratoga, CA
• United States Air Force Band & Honor Guard, Washington, DC
• University of Louisiana Lafayette, Lafayette, LA
• Wyoming All-State Marching Band, Wyoming
28 FLOATS
• 1-2-3 Sesame Street
• Big Apple
• Bridge To The Future
• Daytime, Play Time, Night Time Too...
• Dora's Christmas Carol Adventure
• Elves Raise the Roof
• Gift of Freedom
• Goldfish on Parade
• Home Baked Goodness
• International Cele-bear-ation Clock Tower
• Jolly Polly Pirate Ship
• Marion-Carole Showboat
• Mount Rushmore's American Pride
• Music is Our Life
• On the Roll Again
• Pep Rally
• Santa's Sleigh
• 75 Years of March Madness
• The Smurfs
• Snoopy's Doghouse
• Stirrin' Up Sweet Sensations
• Teenage Mutant Ninja Turtles
• Tom Turkey
• True Spirit of Thanksgiving
• Uncle Sam's Top Hat
• Winter Wonderland In Central Park
• Woodland Family Gathering
• Zhu-niverse
PERFORMANCE GROUPS
• Fred Hill Briefcase Drill Team, Plymouth, MI
• Heartland Hoedowners, Elkhorn, NE
• The King Charles Unicycle Troupe, Bronx, NY
• Spangles Dance Company, New York, NY
• Spirit of America Dance, United States
• The Tap Dancing Christmas Trees, Oakland, CA
• Stagedoor Manor, United States
• Texas State University Strutters, San Marcos, TX
• Varsity Spirit Cheer, United States
• The parade also features 900 clowns.
CELEBRITIES
• Kareem Abdul-Jabbar
• Trace Adkins
• Big Apple Circus
• Chica and the gang from Sprout
• Colbie Caillat
• Rachel Crow
• Thirza Defoe
• Jimmy Fallon & The Roots
• Flo Rida
• Whoopi Goldberg
• Chris Isaak
• Carly Rae Jepsen
• Karmin
• Kidz Bop
• Christian Laettner
• Sandra Lee
• Mannheim Steamroller
• Jennette McCurdy
• Don McLean
• Megan & Liz
• Miss USA 2012 Olivia Culpo
• The Muppets and cast of Sesame Street
• Neon Trees
• Power Rangers Megaforce
• Cody Simpson
• U.S. Olympic Gold Medalists - Gabby Douglas, McKayla Maroney, Aly Raisman, Kyla Ross and Jordyn Wieber
• The Wanted
• Food Network's Iron Chef Geoffrey Zakarian
A holiday treat for children everywhere, the Macy's Thanksgiving Day Parade's finale features the biggest star of all, the one-and-only Santa Claus. As his sleigh comes into view, Macy's will wish everyone "Happy Holidays" and a "Merry Christmas."
Further information on the Macy's Thanksgiving Day Parade can be obtained by calling the Parade Hotline at 212-494-4495 or by visiting
www.macys.com/parade
.
See more information on Marching.com about the
Macy's Thanksgiving Day Parade
and learn what music the
Macy's Thanksgiving Day Parade Marching Bands
will be playing.
Text and images courtesy of Macy's Thanksgiving Day Parade. Photos by Marching.com.

Copyright 2012 Marching.com. All rights reserved. This material may not be published or redistributed without permission.