(December 30-31, 2008, Pasadena, California)
The Rose Parade experience was extra special for members of the 2008/2009 Bands of America Honor Band because the band performed as part of a "mega-unit" that incorporated floats and musicians. Band members helped decorate the float and performed during float judging. The hard work paid off, as the unit was awarded the prestigious President's Trophy for Most Effective Floral Use & Presentation.
Also see:
BOA Honor Band at Bandfest
and in the
Rose Parade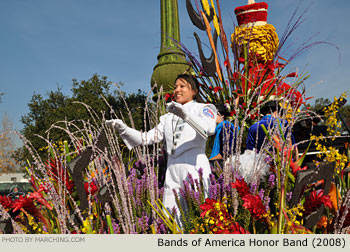 Copyright 2009 Marching.com. All rights reserved. This material may not be published or redistributed without permission.